VICTORIA PET FOOD BANK & FERAL CAT REHABILITATION SOCIETY
Our mandate is to prevent the abandonment of animals by helping their owners with food and other needs the pets may have. You can now help us achieve this goal by donating an item from our

PLACES WHERE YOU CAN DROP PET FOOD, FLEA-TREATMENT & MEDICINES & SUPPLIES
IN SOOKE:

1. 2075 Otter Point Rd the yellow and red house beside Dumont Tire
Bins to place: cat and dog food and all other pet supplies, flea-treatment; dog and cat beds, toys, bowls, impermeable winter coats, and backpacks for large dogs.
Socks, gloves, scarves, hats and winter coats for street pet owners.
Blankets, pillows and towels for our cat rescue.
Empty cans to exchange and pay for our gas to do the deliveries. Gift certificates from pet shops, supermarkets amd gas stations.
2. Whiskers & Waggs -  They are lovley to us and they have one of our bins where you can place food inside.
6703 West Coast Rd. Pet food and pets' related items.
3. Village Foods Market: On the left hand side of the store you will find one of our bins with cats and dogs images.
In VICTORIA:

1. Large quantities call us to arrange pick up, please: 778-352-2999
2. Mr. Pet's new location. They just gave us the great news that they are now collecting food for us. If the donation box is not there yet, please, ask one of the clercks or the assistant manager.  3170 Tillicum Rd #10
3. Paws on Cook Pet Store are wonderful to us and they have a bin in the store. 359 Cook St, Victoria.
4. Bosley's Royal Oak they are the ones who never let us down and they also have a bin in the store at 4478 West Saanich Rd, Victoria.
DIFFERENT WAYS YOU CAN HELP
YOU SEND US A DONATION
Cheques: to the Victoria Pet Food Bank to PO Box 344 Sooke BC V9Z 1G1 Canada
Interact transfer: to safars.org@hotmail.com
Online: Via Pal Pal on the button below this text.
Note 1: Two years ago, we changed our name to better identify the majority of those we help who are in Victoria. Our Pay Pay still has our society's old name Sooke Animal Food and Rescue Society. It was much simple this way and deposits are transferred to our own bank account.
Note 2: Unfortunately, we do not provide charity receipts. We have rejected to apply for charity status because if we accept it we cannot fight against the bcspca's hidden euthanasia statistcs. We believe that with the housing problem we have in Victoria landowners deserve to know that the bcspca, the Victoria Animal Control and the Capital Regional Animal Control are all kill shelters. If they know they will be more empathetic to accept pets in their rental units.
Note 3: If you would like to see our tax documents you can send us a letter requesting them and we will pleased to show them to you.
Note 4: We do not apply for gaming grant of any sort because we consider that gambilng is one of the contributing reasons to: family violence, child poverty, prostitution, depression, suicide, and many other tragedies.
YOU CAN NOW DONATE YOUR EMPTIES TO OUR ANIMALS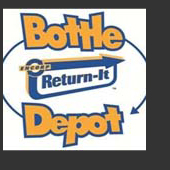 Please, donot forget to mention that they are for the
VICTORIA PET FOOD BANK & FERAL CAT REHABILITATION SOCIETY :
1. 655 Queens Ave Victoria, BC (250) 727-7480
2.3961 Quadra St Victoria, BC (250) 727-7480
3. 4261 Glanford Ave Victoria, BC (250) 727-7480

You can all us at 778-352-2999

VICTORIA PET FOOD BANK & FERAL CAT REHABILITATION SOCIETY